Just Cool Engineering, with local service staff offers you low-cost servicing. We also offer a competitive Maintenance Package. Service area: Condos, HDB, Apartments, Private Housing, Commercial & Industrial Buildings.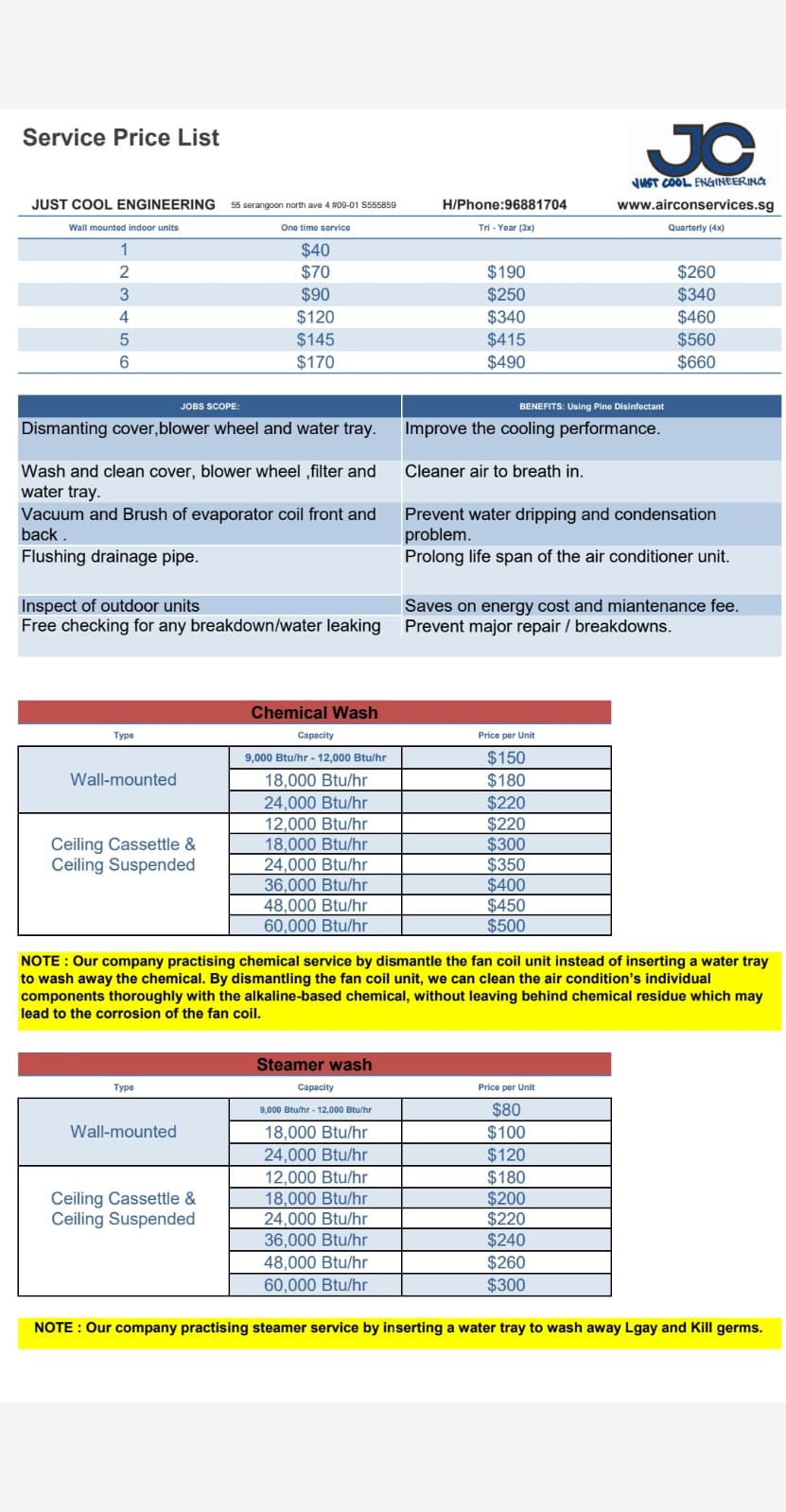 Services Provided
1) *Dismanting of fan coil unit – (Improve the cooling performance)
2)*Chemical overhaul of evaporator coil. (Cleaner air to breath in.)
3)*Cleaning of air filter. (Prevent water dripping and condensation problems.)  
4) *Cleaning of blower wheel. (Prolong life span of the air conditioner unit.)
5)*Cleaning of drian pan.(Saves on energy cost and miantenance fee.)
6)*Cleaning fo drain pipe. (Prevent major repair / breakdowns.)  
7)*Flushing of drain pipe.  
8) *Re-install fan coil unit.  
9)*Checking of all electrical components and setting.  
10)*Testing & commissioning.  
11)*Using Pine Disinfectant Cleaner  
12)*3 months Warranty for water leaking  
- thanks for the airconservicing. Didn,t know Singaporean is still in this trade. Excellent work) 
- Amazing service andvery fast work. Kept my room clean and dry despite tight working space andleakage due to jelly build-up in my FCU. Highly recommended too! Thank you 
- Extremely helpful,immediate response excellent service and arranged appointment on the same day approached. 
- Fast, Honest and professional. Got my dead aircon running just fine. Service technician was friendly and helpful in explaining what was wrong and whar ennded to be done. Gonna make them my go to aircon people.